Dental Bridges in Beverly Hills, CA
Replace Missing Teeth With a Dental Bridge
Our Beverly HIlls dental bridges are quite a common procedure for missing teeth. Dental implants are, however, gaining more popularity over the years, but dental bridges are a time-tested solution for one or more missing teeth. Dental bridges are a more affordable solution to replace a missing tooth, compared to implants. As the name suggests, the dental bridge bridges the gap that a missing tooth or teeth has formed in the mouth, using whole, adjacent teeth as anchors. There is a variety of materials which a dentist can recommend for dental bridges – from cermanic and porcelain, to silver amalgam and gold, depending on each patients individual case. Modern technology has made it possible to give the appearance of natural teeth to dental bridges of today. This can boost the self-esteem of a person who had a missing tooth.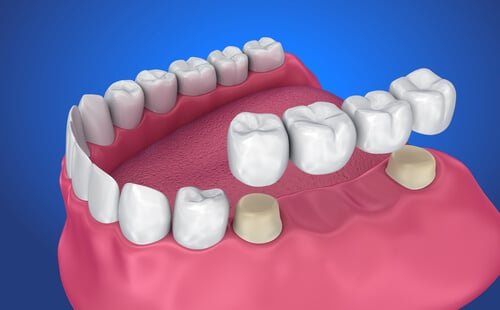 BENEFITS OF A DENTAL BRIDGE
Getting a dental bridge means a person would be able to restore their smile. Losing a tooth can be quite a traumatic experience. Replacement of missing teeth can be a huge confidence booster. When there is a missing tooth in the mouth, it can be quite difficult for a person to chew food properly and sometimes it can cause speech issues. Replacing the missing tooth assists in getting rid of these issues to some extent. Replacing the missing tooth with a bridge would assist in maintaining the shape of the face as well. It is important that individuals take care of their original teeth; however, due to unforeseen circumstances like an accident, negligence, or poor oral hygiene, teeth can become compromised.
Missing teeth can disrupt the bite of a person as well, and it is important to fix the issue. Some people might ignore the missing tooth because of cost, dental anxiety, or a number of other reasons, but it is important to give this issue priority. When teeth are missing in the mouth, there is a gap and thus, there are chances of other teeth drifting towards the empty space in your smile causing alignment problems in the mouth. A dental bridge can help prevent this from occuring. However, it is best to discuss the options with a skilled dentist, as they have the required expertise and knowledge to provide the best possible recommendation. Each individual is different and has different needs. If you'd like to find out if you'd make a good candidate for a dnetal bridge Beverly Hills dentist, Dr. Justin Raanan, can address that and any other questions you have, as well as go over all other options for your missing tooth. Give us a call today!
YOU HAVE QUESTIONS , WE HAVE THE ANSWERS
FREQUENTLY ASKED QUESTIONS ABOUT DENTAL BONDING